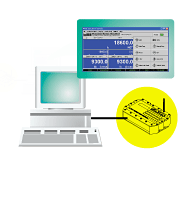 Applications for the Metal Production, Processing and Servicing Centers
In-process weighing and handling is often necessary in metal production, processing and servicing centers. An easy-to-use way to handle these functions – including weighing incoming and outgoing materials, controlling and monitoring processes and reconciling inventory – is an integrated system from Crane Scale.
Cellular Weighing Technology offers a versatile solution to the metal services industry, adapting to all types of scales and sensors and networking multiple weighing processes. Crane scales with this technology integrate seamlessly into weighing and handling processes for advanced efficiency, while industrial grade quality offers excellent performance no matter what the environment. Additionally, these devices network wirelessly with other smart peripheral devices, such as weight indicators, computers, printers and scoreboards, offering superior performance and prompt ROI.
The EDXtreme Dillon Dynamometer was engineered for superior strength and corrosion resistance…more
The Crane scale division of Data Weighing Systems specializes in the measurement of load and force in conjunction with all types of lifting and pulling devices. Related services include: